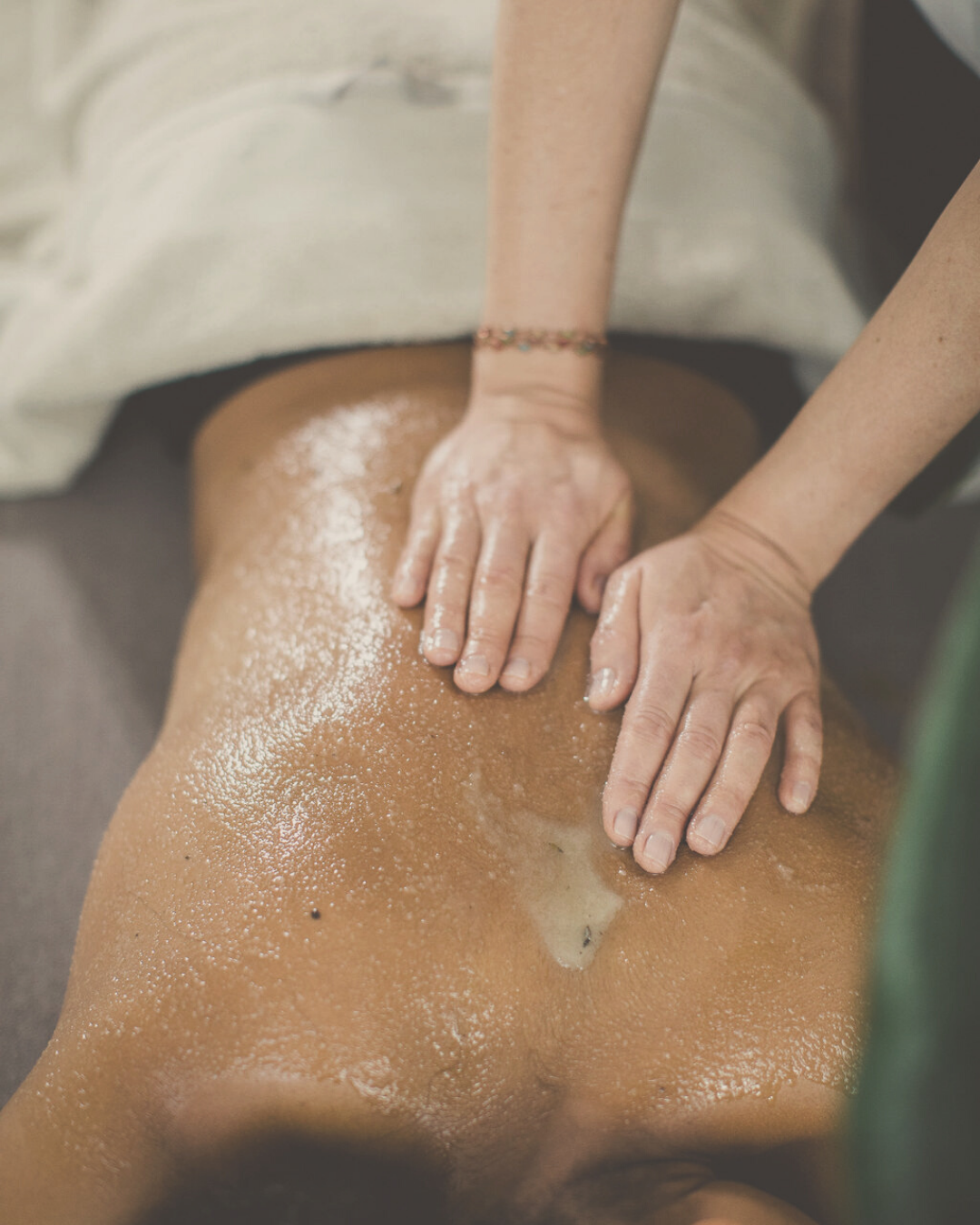 SKIND
DETOXING Body Scrub & Body Massage
For holistic skincare and ayurveda healing, our Scrub & Massage treatment is vital. With a perfect healing blend of herbs and oils - a mix of Kalahari desert sea salt and alkaline salt, it can bring back lightness and an energetic feeling - for body, mind, and soul.

This is the perfect treatment to let go - aiming to detoxify the body through an activating full-body peel which may support the blood- and lymphatic flow. Toxins can be released and washed out which might leave you with a "fresh-start feeling". 
In each treatment, we work holistically - not only aiming to relieve physical, but also mental ailments. Explore what we treat here. 

might be the ideal treatment to maintain balance and health within skin and body 
our scrubs are 100% natural and organic using the principles of "may nature be your healer" 
through stimulating the skin, the nervous system, the lymphatic system and the tissues with pure herbs and oils we aim to nourish the skin from inside out and stimulate the systems with the nurturing components of nature
we always treat by the principle that everyone is unique and goes through an individual journey - that's why we always incorporate a quick check-in on your current state of being and alter the treatment accordingly 
you might be able to experience a deep release and detoxification for your body, mind and soul - exfoliating your past to welcome the new
DETOXING BODY SCRUB & MASSAGE
PHYSICALLY:
The treatment can offer relief from:
Stagnant circulation
Toxins in the body
dry skin 
MENTALLY/EMOTIONALLY:
The treatment can offer relief from any conditions related to:
Stress
Depression
Anxiety
Tiredness
Feelings of being stuck in patterns or any life situations
PHYSICALLY:
The treatment can cause:
Improvement in skin tone and feel 

Stimulation of circulation 

Elimination of toxins
MENTALLY/EMOTIONALLY:
The treatment can cause:

A deep connection to self and higher self
Expansion of your consciousness
More balance and mindfulness
Happiness and deep relaxation